We have a wide range of feeding equipment in stock such as 👉 New Strautmann and Hi-Spec diet feeders (due in) 👉New Teagle round/square bale & Pit silage trailed and 3 point linkage choppers/blowers 👉New Hustler round bale feeders/unwinders 👉New Tanco bale shears 👉New Dowd bale splitters aswell 3point linkage bale handling equipment 👉New Rossmore Shear and Tine grabs,forks and front loader bale handlers
New Strautmann Diet Feeders 1401 verti mix 12 cubic meter capacity Counter knives Hay ring 2 doors Wide Angle shaft 15mm Auger Stepped auger design
New Teagle 8100 bale processor 👉Ultimate machine for your foddering this coming winter 👉Feeds round bale/pit silage and shreads straw Bales for bedding Some key features to the Teagle 8100 👉Chain driven- ideal for wet silage (no belts) 👉Wide body ideal for your large Square 4×4 straw bales 👉2 speed gearbox 👉Easy driven – low horsepower required 👉Bluetooth controls – trouble free and user friendly 👉Unbeatable blow distance 👉8 Replaceable Paddles on blower (Not welded) 👉Wear resistant fan housing 0% Finance available
New Teagle Tomahawks straw choppers /Bale Feeders 👉 They provide an even and absorbent bed of straw. Blow straw up to 35′, discharge to one or both sides of the tractor 👉 Alternative delivery chutes are available to suit your requirements. 👉Tomahawk Drum models are economical, simple and robust 👉There are no gearboxes, with the drive to the rotor being direct from the tractor, a hydraulic motor is used to rotate the drum. 👉Due to their simplicity and strength, customers can expect a long service life from their Tomahawk. Save straw – users report typical savings of 30% compared to manual bedding down. 👉 Cleaner livestock – healthier animals and fewer disease problems. 👉Save labour – one person bedding operation. 👉Simple – drum turns clockwise, rotor turns anti-clockwise, and material is skimmed of the end of the bale. No gearbox – direct drive from PTO. Hydraulic drive to drum. Feed rate is controlled by the angle of the drum.
Hustler Round Bale Feeder/unwinder *Automatic unlocking manual unlocking also available (snaplock) *24,000 lbs roller chain,strongest chain on the market *Polyethylene floor,leaves no shaft behind and bearings are covered from material getting caught around them *Rollers for odd shaped bales,bale does not fall in on top of slates *Removable rear guard to access both sides *Heavy Duty tines *Chain tensioner *1 man operation *Can feed both sides *Low maintenance
Nugent Round Bale Feeder Auto lock/un lock Feed left and right 1 onwer 2021 Machine Very good condition €5950 no vat
2017 Teagle Telehawk Straw blower Fitted with JCB QFit brackets 280 degree swivel chute Hydraulic driven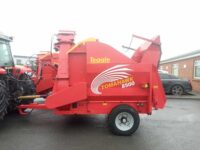 2014 Teagle Tomahawk 8500 Swivel chute,Electric controls,In good condition,ready for work.Stock number E086
2012 Teagle 808 silage and straw feeder 280 degree swivel chute Electric controls 2 speed gearbox Chain driven – no slippage 3 point linkage Hydraulic rear door Cross beater blades

The Tanco i60 Cleanafeed is a low maintenance, self-loading, durable feeding implement for cleaning, washing and chopping root crops. Ideal for supplementary feeding.
New Dowd Bale Splitters Dowd Engineering round bale splitter. Heavy duty construction. 3 point Linkage 2 x 49″ stonefork tines. 32″ standard tine to stabilise bale. 16ton ram fitted with hose burst valve for safety
New Johnston sheargrab's in stock Heavy duty grabs Available in 4ft6 and 5ft10 Comes with Euro brackets and pipes

NEW PRODUCT IS HERE | ScoopMax Bucket Grab For scooping, handling and loading loose feeds, silage, soil, rock, posts and more…
AGM diet feeder Vertimix 14 cube metre Electric controls Front stainless cross conveyer Can feed either side Checked over and ready for work
New rossmore heavy duty tine grabs in stock Available in 4ft and 4ft6 Heavy duty Kverneland tines Comes with Euro brackets, hydraulic hoses and quick releases
New rossmore manure forks in stock Available in 4ft and 5ft Strong and durable Euro brackets fitted Made from quality box section fitted with Kverneland tines. The underside of the bottom barrel in fitted with wear plates to prevent tearing of the barrel during operation. For maximum tightness the tines are fitted and torqued prior to painting to ensure maximum contact of steel on steel.
New Dowd Engineering folding bale spikes 2 prong bale spikes Heavy duty 3 point linkage 43" kverneland tines
Dowd Engineering 2 prong bale spikes  3 point linkage 43" kverneland tines