Marshall Rear Discharge Manure Spreaders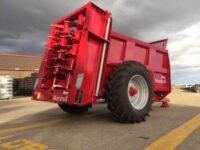 We are the main importers for Marshall Rear discharge spreaders. 10 ton, 13 ton and 15 ton models are available and come standard with oversized tyres, wide angle pto and slurry door. The Marshall VES spreader has been designed to eliminate problematic floor chain set ups and associated maintenance. Marshall VES spreaders use a 4 stage hydraulic ram.
Features at a Glance of the Marshall VES Spreaders at
No floor chains (no problems)
Robust purpose built one piece gearbox (no breakages)
10mm thick step design rear beaters (long life)
Fully reversible hardened tips (reduces wear)
Hydraulic pusher ram (heart of the machine)
Holds and spreads slurry (liquid tight seal)
Compact design with axle position as far back as possible (increased traction & versatility)
520 mm minimum ground clearance (VES-1500)
Exceptional residual value (lowers cost per ton spread)
Genuine Marshall Spares – a full collection of spares are available for all models in the range
The whole concept behind the Marshall VES Rear Discharge Spreader was based on the premise that a spreader was required in the marketplace that should be virtually maintenance free. A tall order but one Marshall have certainly achieved! The Marshall VES requires a daily visual check of the gearbox oil level and greasing by means of five remote points. Quite simply that is all that is required.
This was made possible by developing a unique design that uses a hydraulic ram to push the load to the beaters, eliminating unreliable and troublesome chains that are a notorious weakness of rear-discharge spreaders. The pushing rams speed is fully controllable due to the mechanical device that regulates the flow of oil to the ram as it extends, ensuring a constant speed of discharge.
This clever design also offers a number of other advantages over traditional rear discharge spreaders. The removal of a chain drive system allows a deeper, more compact design that has a lower centre of gravity making it an ideal choice for areas with narrow roads or for spreading on hills. This gain is not at the expense of ground-clearance with all machines sporting an excellent 520mm of ground clearance. The removal of the chain drive gearbox also allows the axle to be placed further back on the machine, reducing weight transfer beyond the axle during spreading that could cause instability of the towing vehicle.
Operational wise the design is extremely easy to use. The speed of discharge is controlled by our mechanical device which reduces the oil flow as the ram moves forward enabling the operator to simply engage the spool valve prior to spreading.
For more information phone Kane O'Connor for more information on 086 6056807
http://www.marshall-trailers.co.uk/range/rear-discharge-muck-spreaders